OFF THE GRID
She wants to save the world. All he wants is a date.
A committed doctor to Vancouver's inner city, nothing fazes Sophie Monroe—until a pregnant teenager shows up at her clinic on Christmas Eve requesting sanctuary and claiming the baby's father is one of the city's most influential businessmen. Sophie is in over her head and thankful when aid shows up in the form of an attorney who's a little too confident and a lot too sexy.
Family Law expert Caleb Quinn just wants a date, a chance to prove he isn't the elitist jerk Sophie assumes. Helping deliver a baby is not what he has in mind. But before long protecting a traumatized teenager and her son become his first priority. Even if saving them pits him against the baby's father, a childhood friend. A man who will do anything to keep his dark side private.
But justice never comes cheap. Will doing the right thing cost Sophie and Caleb their reputations? Or their lives?
Available Now: BACKLASH
What he's sworn to protect, she's willing to sacrifice to save those she loves...
When dedicated teacher Lily Wheeler interrupts a vicious gang attack on one of her students, she vows it won't happen again. But her rash interference puts her in the path of a cold-blooded killer and the constable tracking him - a man she has little reason to trust, but can never forget.
Constable Chase Porter returned to Aspen Lake to see justice done, not renew old acquaintances. But when he rescues the woman he once loved from a volatile situation, he realizes his feelings for Lily haven't lessened over the years.
Now, the dangerous killer Chase has sworn to capture has Lily in his sights. Can Chase and Lilly learn to trust each other again before it's too late - or will old insecurities jeopardize their future?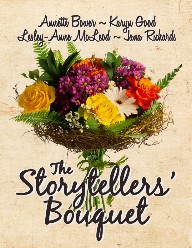 The Storytellers' Bouquet
Download the FREE Storytellers Bouquet Sampler!
This forty-four page promo features excerpts from me,
Annette Bower, Leslie-Ann McLeod, and Jana Richards.
Enjoy!